Better together
02/15/2022, 1:15pm CST
By Joanne Kim, Staff Writer, Nandini Muresh, Photographer, The Sidekick
FEBRUARY 7, 2022
A soccer ball rolls across bright green turf. Two small pairs of feet pass it back and forth. Laughter can be heard even from a distance.
This image is one that could be seen frequently in Coppell senior midfielder Walker Stone and sophomore midfielder Same Stone's childhood.
"We're best friends," Sam said. "Some brothers don't really get along, but we get along really, really well. We both play similar styles and we both understand each other, we like to move the ball together and play together. It's really nice having someone that you can trust playing next to you."
The brothers have been playing soccer since they were 6 and 2. Despite their long history with the sport, the brothers have never played on the same team due to club soccer teams being divided by age level.
Until this year.
For the first and last time, the brothers are teammates on the Coppell boys soccer team. Walker started on the varsity team as a sophomore two years ago, and now, his brother is on the same path.
"The thing that stands out about them both is their positive attitude," Coppell boys soccer coach James Balcom said. "Walker has been on this team for the last few years, working to get this team to the top. And Sam is coming in and trying to learn and become part of that as well."
Their upbringing has much to do with their love of the sport. Their mother, Josephine Stone, is from England. And because of this, the brothers have dual citizenship with England and the United States, traveling between the countries every year.
"Their whole family, on my side, is in England," Mrs. Stone said. "So they've been going to England every summer since they were born. They would go to the parks [and] play street soccer and pickup games. We [would] get to go to stadiums and catch any Premier League games we can. They've been immersed in the soccer environment."
In addition to their involvement with the Coppell soccer team, the brothers play club soccer. Walker plays for the Dallas Texans and Sam plays for Solar Soccer Club. The brothers have traveled all over America and Europe with their teams for international tournaments and showcases, including Sweden, Denmark, Finland and Spain.
"It's always good to get new experiences. Playing against teams overseas is really a breath of fresh air," Walker said. "You get to see how teams from other countries play and how their soccer is different to American soccer. It's a good experience to really see how different soccer is worldwide."
Despite no prior experience as teammates, the brothers have always played together recreationally. This chemistry has translated to the present now that they play on the same team.
"Sometimes you get brothers that are overly competitive with each other. But you can see with [Walker and Sam], they want each other to have success," Balcom said. "At McKinney Boyd, Walker [was] subbed out [off of a] yellowcard and we got a free kick Walker would usually take. But Walker was telling Sam, 'hey, step up and hit it.' To have that confidence in your little brother is huge, and it disperses to the group. Not only do they want each other to have success, they want that for the team as well."
Balcom looks forward to the role Sam will play in upcoming years.
"Walker has become a captain and role model for our team over the years. It's been huge to have his brother stepping into similar shoes his sophomore year and working with the varsity group," Balcom continued. "Here in a few months, we'll hate to lose Walker, but knowing we have Sam coming back to take over some of those roles that Walker is leaving is reassuring."
Walker is finalizing his paperwork at the University of Chester in England, and has been accepted to the UDA Academy. Both brothers hope to move to England and continue playing soccer for as long as they can.
"We're just looking forward to watching them play. This is probably the only year this is going to happen," their father Scott Stone said. "Walker will be going to college, and Sam still has a few years left. Chances are, this won't happen again, so we want to just sit back and enjoy it."
Follow Joanne (@joan_kimm) and @CHSCampusNews on Twitter.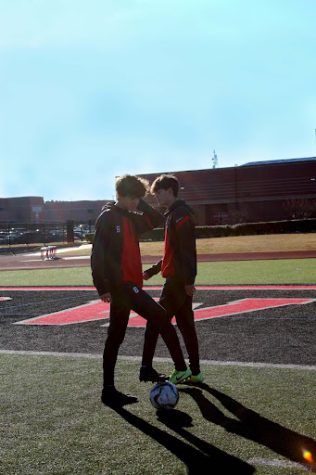 Coppell senior captain Walker Stone and sophomore Sam Stone grew up playing soccer from a young age due to the importance of the sport in their family. Though the brothers practiced together when they were younger, this year marks the first time they have played on the same team. Photo by Nandini Muresh (Nandini Muresh)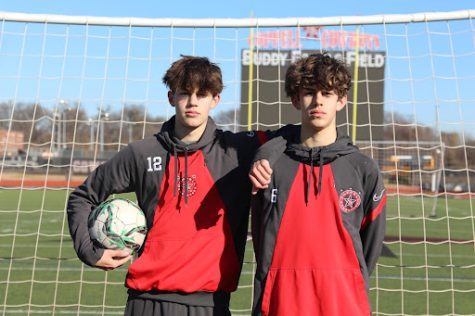 Coppell senior captain Walker Stone and sophomore Sam Stone grew up playing soccer from a young age due to the importance of the sport in their family. Though the brothers practiced together when they were younger, this year marks the first time they have played on the same team. Photo by Nandini Muresh (Nandini Muresh)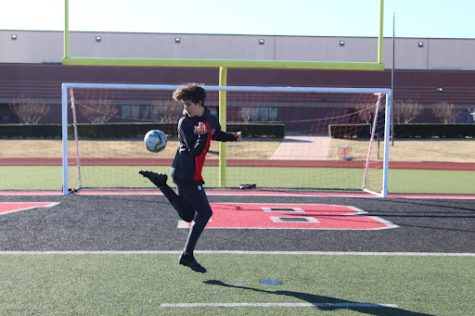 Coppell senior captain Walker Stone and sophomore Sam Stone grew up playing soccer from a young age due to the importance of the sport in their family. Though the brothers practiced together when they were younger, this year marks the first time they have played on the same team. Photo by Nandini Muresh (Nandini Muresh)